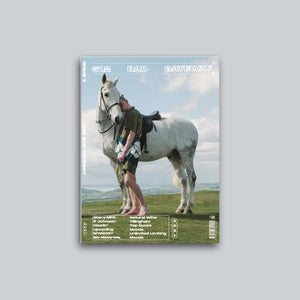 Dieter Rams and Braun Design: A legacy examined in an depth interview with collector Dr Peter Kapos from System Studio. We take apart why the 10 Principles are nonsense and the historical and philosophical background of the 1960s and Braun Design.
Story MFG Editorial by Jethro Marshall shot in the Dorset wilderness.
P Johnson: Vibe check in the showrooms of Australia's coolest tailor. If you imagine tailoring not being for arseholes then this brand is basically that. 35mm film.
Natural Wine: We check out English vineyard Tillingham and London's coolest wine shop and restaurant and soon-to-be food empire Top Cuvee. Why is natural wine cool is the question we attempt to answer, touching on regenerative agriculture, filling horns full of cow shit, and other such points of conversation.
Howlin: Best in Belgian knitwear answer our questions and we shoot their collection in a lovely location near St Paul's.
Makers & Upcylcers: We speak to Helen Kirkum, who cuts up trainers and remixes them, recently off a London Fashion Week showing, and Ksennia Sofianatos of [Functional Clothing Lab] about their takes on upcycling and DIY making and it's ethical influence on the world.
AND MORE!